About
Hello readers and distribution Partners!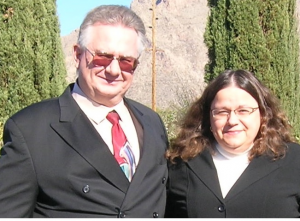 Your proud new Publishers of Coffee News® of Tucson is Dale and Barbara Hulvey. Coffee News® of Tucson has been published admirably since 2009. We are not new to the business world and have multiple businesses we operate in the Tucson area. We consider Tucson "Our Town" and have no plans of ever relocating outside of our city. This means you can expect to see Coffee News® published by us for many years to come.
We now bring our vast business experience to the publishing and marketing world here in Tucson. Dale is a native of Tucson and Barbara relocated from Pennsylvania in 1999. We have a true passion for all small to medium sized business owners in Tucson and surrounding communities and strongly believe in the shop local campaign. Helping small businesses grow through effective and affordable advertising using a consultative and integrated approach with integrity is OUR goal. Currently we have 4 editions in the Tucson area. Our friends Robert and Rebecca Kastelic have 2 editions in the White Mountain area and are expanding. Our friend Leanne Herriman has 3 editions in the Oro Valley, Marana and Green Valley area.
Northwest Central     Downtown/University of Arizona     East- DMAFB
Payson Show Low/Pinetop-Lakeside
Oro Valley Marana     Green Valley
A few fun facts:
Coffee News® was established in 1988
Coffee News® is enjoyed by millions of people worldwide in 15 countries each week!
Coffee News® is the world's #1 restaurant publication!
Coffee News® is #1 in Advertising 15 years in a row by Entrepreneur Magazine® in 2016!
Coffee News® ranked #158 out of 500 as best franchises in America by Entrepreneur Magazine® in 2016!
Please contact us today to be added as a distribution location or for a conversation about an advertisement in Coffee News®. We can also put you in contact with other Coffee News® Publishers. Your ad would be exclusive (one advertiser per business category – lock out the competition). We are Affordable, Local and Fun!
Yours truly,
Dale and Barbara Hulvey
Publishers